The Ways of Eternity (I, Horus)
The Ways of Eternity by D.A. Dean
Every myth contains clues. Horus, Egyptian god, parts time's veil. Return with him to the beginning. Rediscover the truth.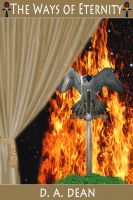 In The Ways of Eternity, first in the I, Horus series, Horus draws the reader back to the First Time to reveal the story behind the mythology: In an age of war, a headstrong child, filled with curiosity, burdened by fear, uncovers his powers. A defining, forbidden love sparks, fated to span millennia. The stakes are laid in the battle between the forces of good and evil. Foundations are formed. Friends stand firm. And a visionary young king lifts his mantle and claims his destiny, forging hope, bringing with him the ways of eternity and the promise of the twilight of the morning.
The Ways of Eternity
D.A. Dean
ISBN: 9781301961054
Price: FREE!
Available on Smashwords, Amazon, Barnes & Noble, iBookstore, Kobo, Sony, and Diesel.
Cover Art by Tatiana Vila